your dentist in pompano beach, FL
Serving Pompano Beach Florida For Over 22 Years, and Helping Transform Smiles Through General, Aesthetic, Holistic, and Cosmetic Dentistry. Accepting New Patients For All Manner Of Dental and Aesthetic Needs.
why choose our dentist office?
At Jaline Boccuzzi, DMD, AAACD, PA, we understand that dental visits can sometimes be intimidating. We want to change that perception and make your time with us as pleasant and comfortable as possible. Our friendly and knowledgeable team will ensure that you feel relaxed and well-informed during every visit. Thank you for choosing our office as your dental care provider in Pompano Beach, FL. We are excited to embark on this dental journey with you and look forward to helping you achieve and maintain optimal oral health. Please feel free to contact us at any time to schedule an appointment or to address any concerns you may have.
contact us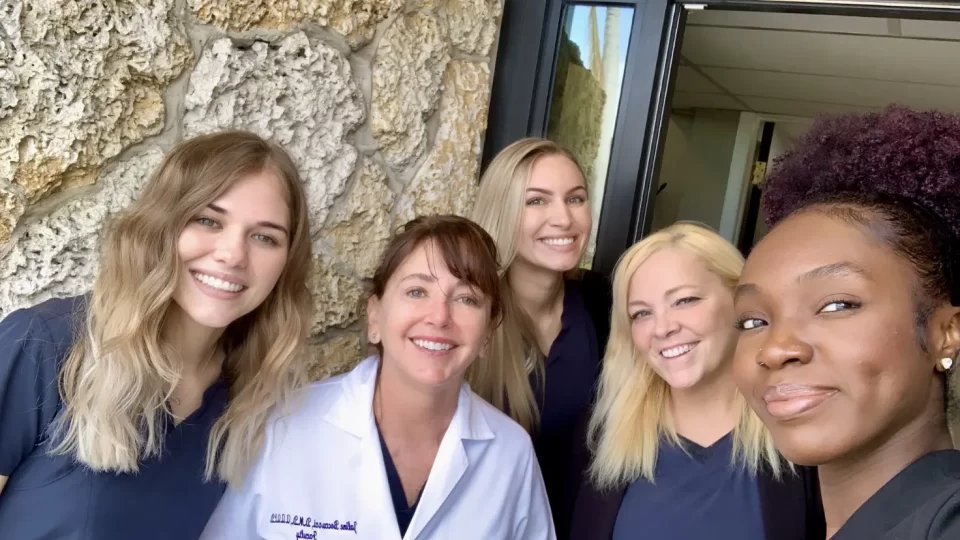 Striving to be the best dentist in the pompano beach area since 2001
our pompano beach dental services
From routine cleanings to full-mouth dental implants and everything in between. We can help you get the smile you'll have confidence in.
Welcome to Jaline Boccuzzi, DMD, AAACD, PA, your trusted dental practice in Pompano Beach, FL!
comprehensive dentist in pompano beach, FL
We are thrilled to extend a warm welcome to both our new and existing patients. Your oral health and comfort are our top priorities. We believe in providing exceptional dental care that goes beyond expectations, and we are excited to have the opportunity to serve you.
For our new patients, we understand that choosing a dentist can be a significant decision. Rest assured that you have made the right choice. Our experienced team of dental professionals is committed to delivering personalized care tailored to your unique needs. From the moment you step into our practice, we will strive to create a welcoming and relaxed atmosphere, ensuring that you feel at ease throughout your dental journey.
To our existing patients, thank you for your continued trust and loyalty. Your support is what drives us to constantly improve and provide you with the best dental experience possible. We value the relationships we have built with each and every one of you and are dedicated to maintaining and enhancing your oral health for years to come.
Whether you are visiting us for a routine check-up, dental cleaning, or more extensive treatments, our skilled team is here to guide you through each step of the process. We utilize advanced dental technology and stay up-to-date with the latest techniques to offer you the highest quality of care. Rest assured that your smile is in good hands.
We offer a comprehensive range of dental services, including general dentistry, cosmetic dentistry, restorative dentistry, and more. Our goal is to help you achieve a healthy, beautiful smile that you can confidently share with the world. We take the time to listen to your concerns, answer your questions, and work together to create a personalized treatment plan that aligns with your dental goals.
what our patients are saying
meet your dentist in pompano beach, FL
Jaline Boccuzzi, DMD, AAACD, PA goes the extra mile and our entire team is here to make sure every patient feels welcome and comes out of our dental office with the smiles they can be proud of.
jaline boccuzzi

d.m.d, a.a.a.c.d, p.a.

In 1988, Jaline Boccuzzi, DMD, AAACD, PA graduated from Tallahassee Community College with her Dental Hygiene degree. While working as a hygienist, She then realized she enjoyed being in the dental field but wanted more. She obtained a Merit Scholarship, moved to Boston, MA, and in 1995 was awarded her doctorate from Tufts University, School of Dental Medicine. Dr. Boccuzzi is an Accredited Member of the Academy of Cosmetic Dentistry, which represents the successful completion of the most valid and validated process in the field of cosmetic dentistry.
our blog
Explore our blog articles to learn more about the services we provide as well as helpful information regarding maintaining optimal oral health.
contact us
We love hearing from our patients and potential new smiles. Got questions? Need an appointment? Just want to chat about the latest dental news? Don't hesitate to get in touch with us. Our team of highly skilled and caring professionals is here to help.